Yes, it's the major trend right now, and yes it's kind of hard to pull off, but that doesn't mean you have to avoid it like the plague. There are two tricks to making this trend work that you can use if you aren't model tall/skinny ect… The first is to find a fur (real or faux) that isn't too bulky. This vest isn't for warmth, no matter how much it might look like it- warmth is more of an afterthought than anything else. Thinner furs will add less bulk and make you look better, and this goes double for anything you wear under it.
People come into my store all the time and try the vest with their cable-knit sweaters on and then moan on and on about how bad the fur vest makes them look. That's because they're layering wrong. When you layer, thin pieces are key. The perfect look is a thin long-sleeved turtleneck under a vest that is half an inch thick at the most.
However, that's not to say you can't wear the bulkier look, which brings me to my second point… How you wear the vest.
Let me bring back the "not for warmth" point. Unlike your comfy L.L. Bean fleece vest, this vest doesn't have to close. "What!" you say? "But, that means it doesn't fit me!" Oddly enough, that's not actually true. When the vest is fastened, it brings the bulkiness of it full circle and you begin to look more like the Michelin Man than a runway model.
Wearing the vest open with that solid color (thin) turtleneck we mentioned before, slims you instantly. As long as the back of the vest fits well along your shoulders, you can get a size below what you would have worn with it fastened. So a size large becomes a size medium and so on… Now, all of a sudden, when you put the vest, you're owning the look rather than wondering how this fuzzy animal appeared on you.
The rule of thumb is that the skinnier you are, the bulkier your vest can be. Yes, models can wear a huge fur coat and be "making a statement" while if you wear it the same piece a stranger on the street is going to try to save you from suffocation from the dead bear that's on top of you. It's just something you're going to have to deal with because life isn't fair. And, unless you have the 18-inch waist of Scarlett O'Hara, AVOID CROPPED VESTS! They only work for pre-teen girls with no boobs and non-existent waists, or with Victoria Beckham (for the same reasons).
Finally, finish it off right. Bulkiness on top means a slim cut jean, leggings, pencil skirt or cigarette pants on the bottom. Boots or heels also make the look that much more finished. Ugg boots are NEVER appropriate. (I promise I'm saving you from yourself here) My preference for jewelry is stud earrings (so they don't catch on the fur) and a long necklace. If you're skinny, you can pull off a trendy scarf (like whichever one of the olsen twins is wearing the fur below) or statement necklace, but for most people I recommend a long necklace which will do wonders to elongate your face and neck and keep you from getting lost in the fur collar.
CREATE THE LOOK- Cash, Check or Credit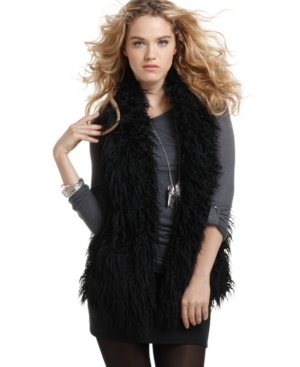 Jessica Simpson ($98),
Michael Michael Kors ($130),
Halston Heritage ($345)